Looking to learn?   Want to improve?
Full swing * Short game * Putting * Course Management
Available for Juniors * Adults * Seniors * Beginners * Experienced golfers
Markham Golf Dome is home to a select group of highly qualified instructors able to help you advance your game.  Please contact any of our instructors (listed below) directly for information about their rates and availability.
Golf instructors not listed below are welcome at Markham Golf Dome asked to contact duncan@markhamgolfdome.com before visiting regarding house rules specific to instruction.
Students, Please Note:
Additional time spent practicing before or after lessons is available per our fee schedule.
Students are encouraged to consider Value Cards for preferred rates.
Spectators are not permitted.
The Markham Golf Dome's teaching programs stress the importance of learning how to golf.
Our professionals will get the most of out of your abilities by teaching and demonstrating the proper techniques necessary to play the great game of golf.
Our highly motivated and innovated professionals have met and exceed the requirements set forth by their respective associations which include PGA of Canada, CGTF & USGTF. Their passion for golf, combined with their vast teaching and playing experience make them ideal coaches.
Your game will improve as your coaches takes you through very simple and organized programs that include expert video analysis.
You can rely on our Golf Professionals to help you excel at learning and understanding the fundamentals of the golf swing in an easy and enjoyable environment.
PGA of CANADA Professionals
Qualified instructors
Decades of Experience at your service!

Graham Ure
PGA of Canada
Class A Head Professional
Johnny Choi
PGA of Canada
Professional
Bennett Li
PGA of Canada Professional
Master CGTF
Gary Kent
PGA of Canada
Class A Head Professional
Billy Fung
PGA of Canada
CGTF Teaching Professional
Rob Conway
 PGA of Canada Apprentice
Duncan Butler
PGA of Canada
Class A Professional
Clara Cho
PGA of Canada
Class A Professional
John Lingeman
CGTF and TPI
Luiz Martins
PGA of Canada
Class A Professional
Steve Lee
PGA of Canada
Professional
SEE BELOW FOR MORE INFORMATION
ABOUT OUR INSTRUCTORS
Feel free to contact any of our instructors using the information below.
Let them know your golf experience, how many people will be coming for the lesson as well as your preferred day(s) and time(s).
Lessons are by appointment only. There is an instructor to meet every need.
If you do not have a preference of instructor, please call the Dome at 905-475-3663 and let us know your preferred day(s) and time(s) as well as how many people will be participating.  We will find an instructor who will contact you to set a time.
The price of individual lessons is typically around $100 + HST, varying with the instructor.  Group lessons (2 or more friends or family members) are a little less per person.  The price for recurring lessons (series pricing) is generally a little less as well.  Lessons are typically 45 minutes to an hour in length.
Please note that lesson prices for most of the instructors below include either balls for an outdoor session or balls and mat time for indoor sessions.  Please ask your instructor for details as there are exceptions.
Please contact the instructors directly for their pricing and availability.
All of our instructors employ a variety of analytical and teaching techniques and commonly use video as part of swing analysis.
More notice is always better; minimum 3 days advance notice is strongly suggested.
Please advise the instructor of a cancellation at least 24 hours in advance.
For general inquires, please click on the link below: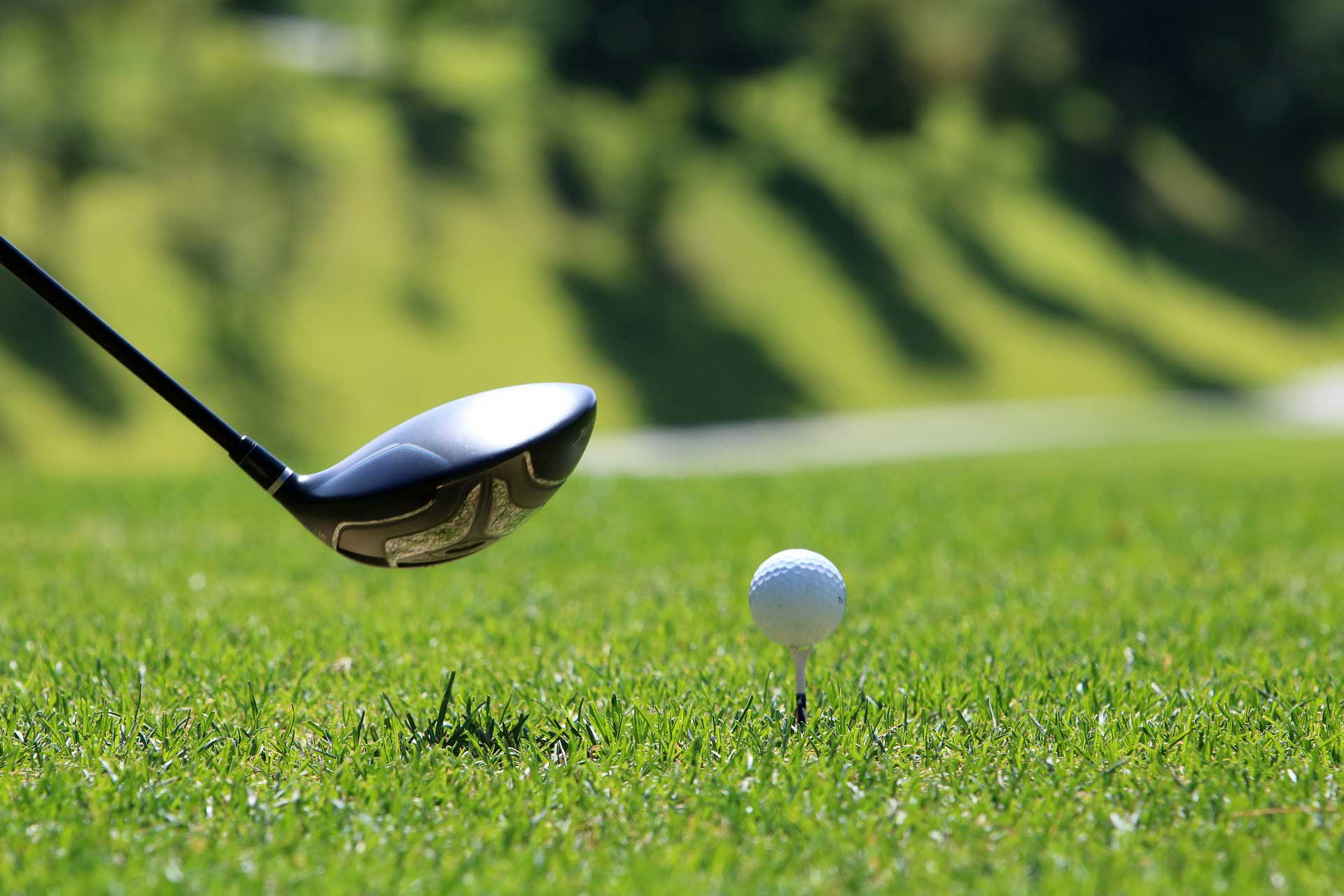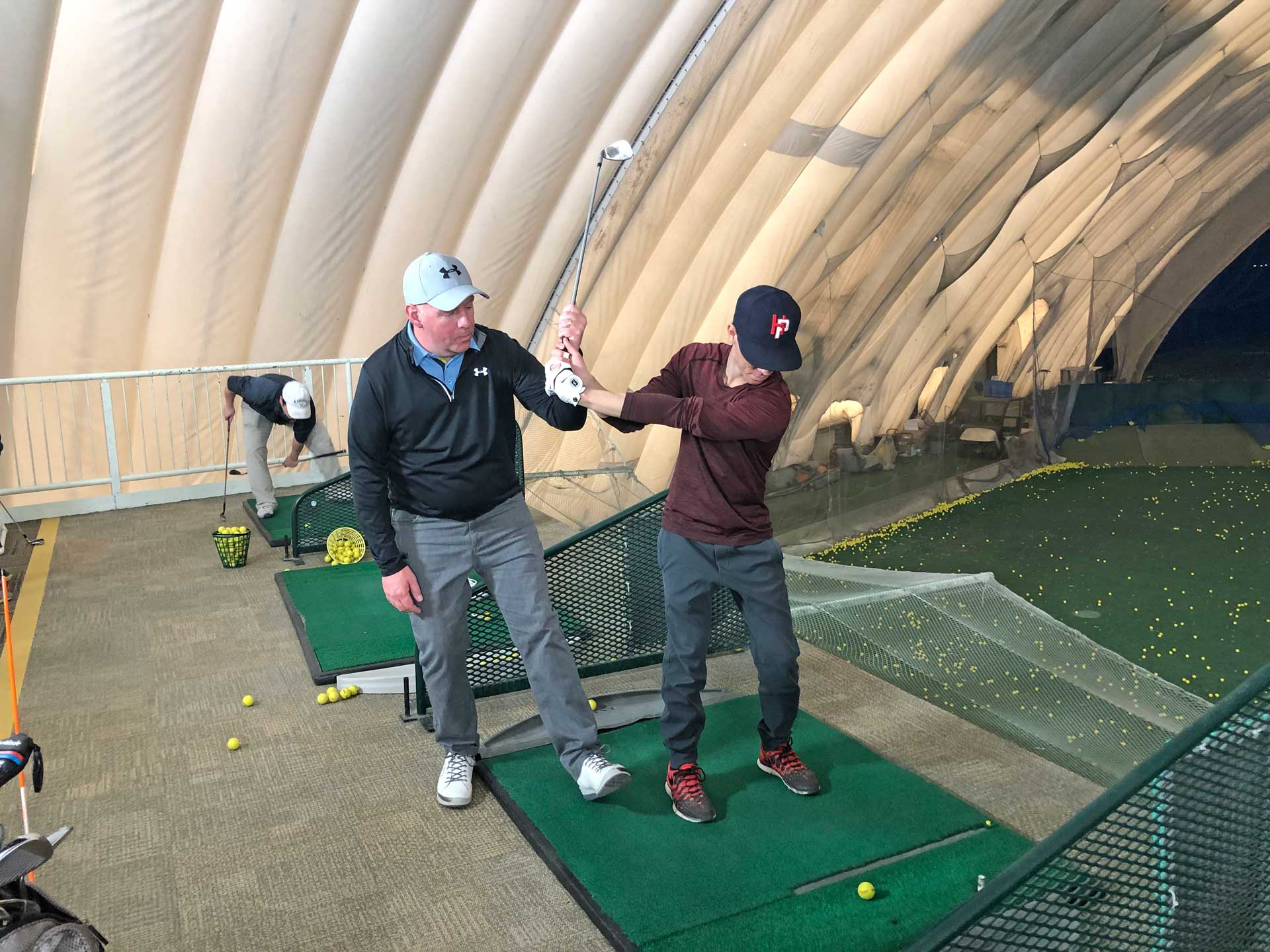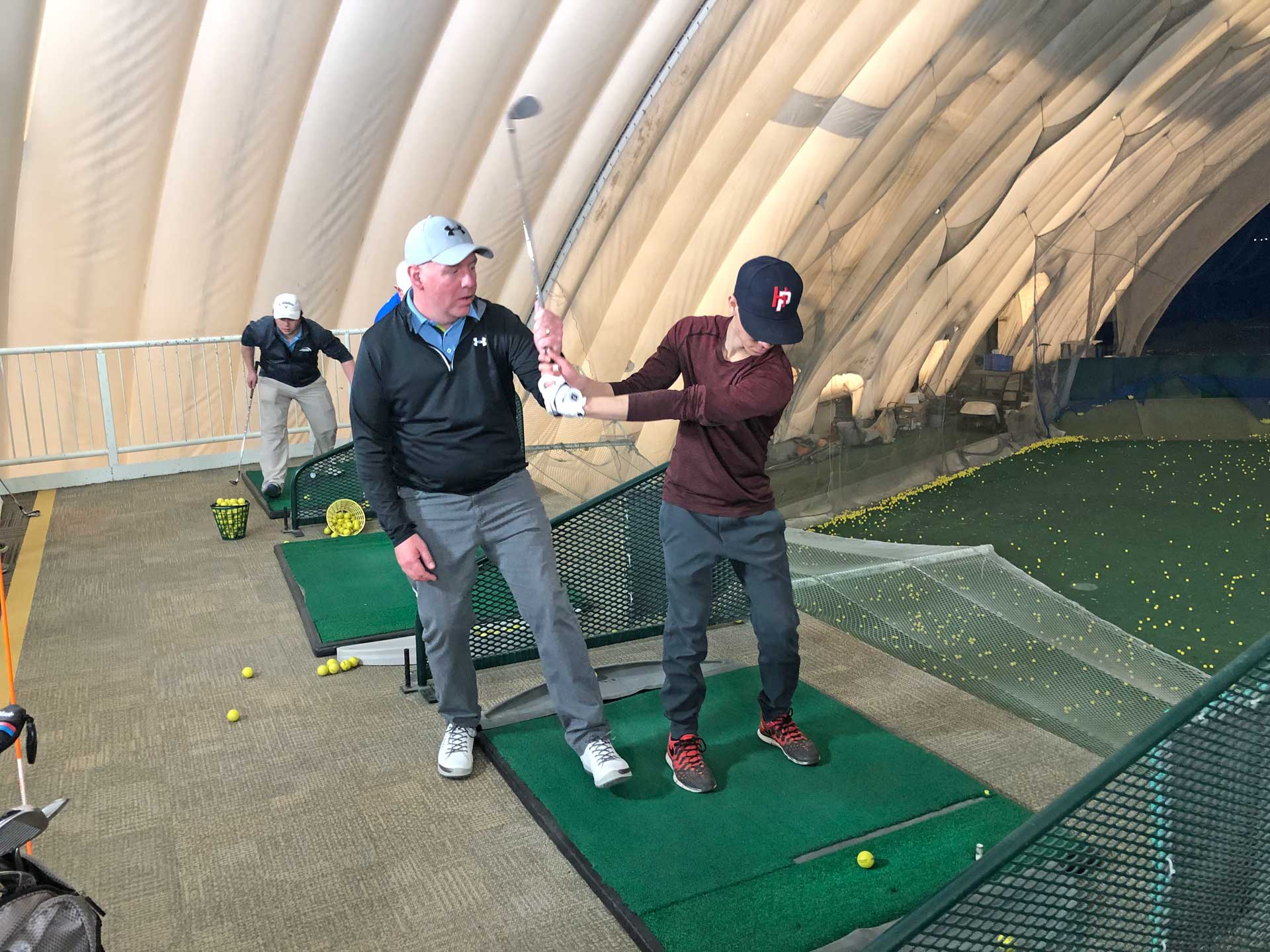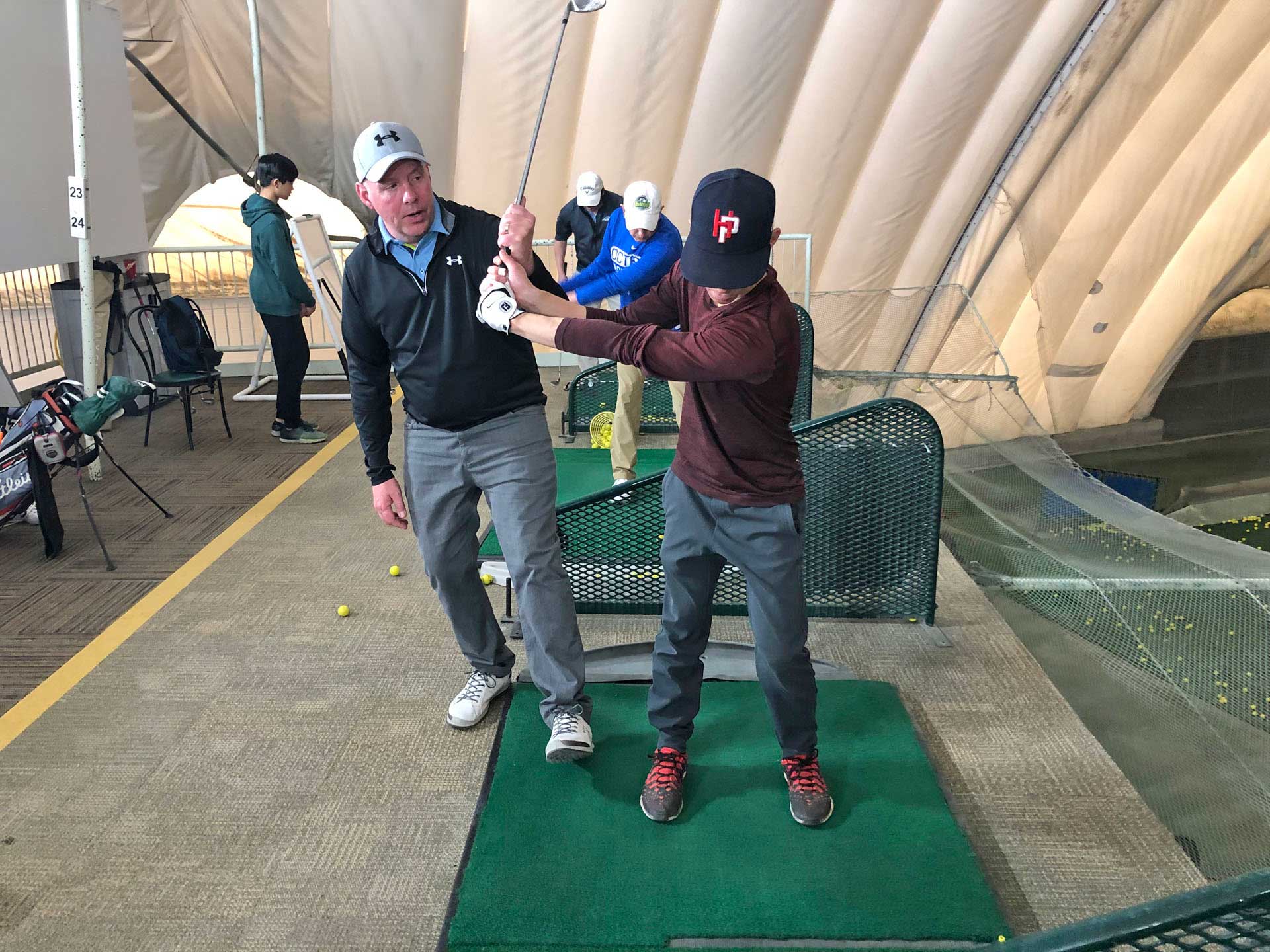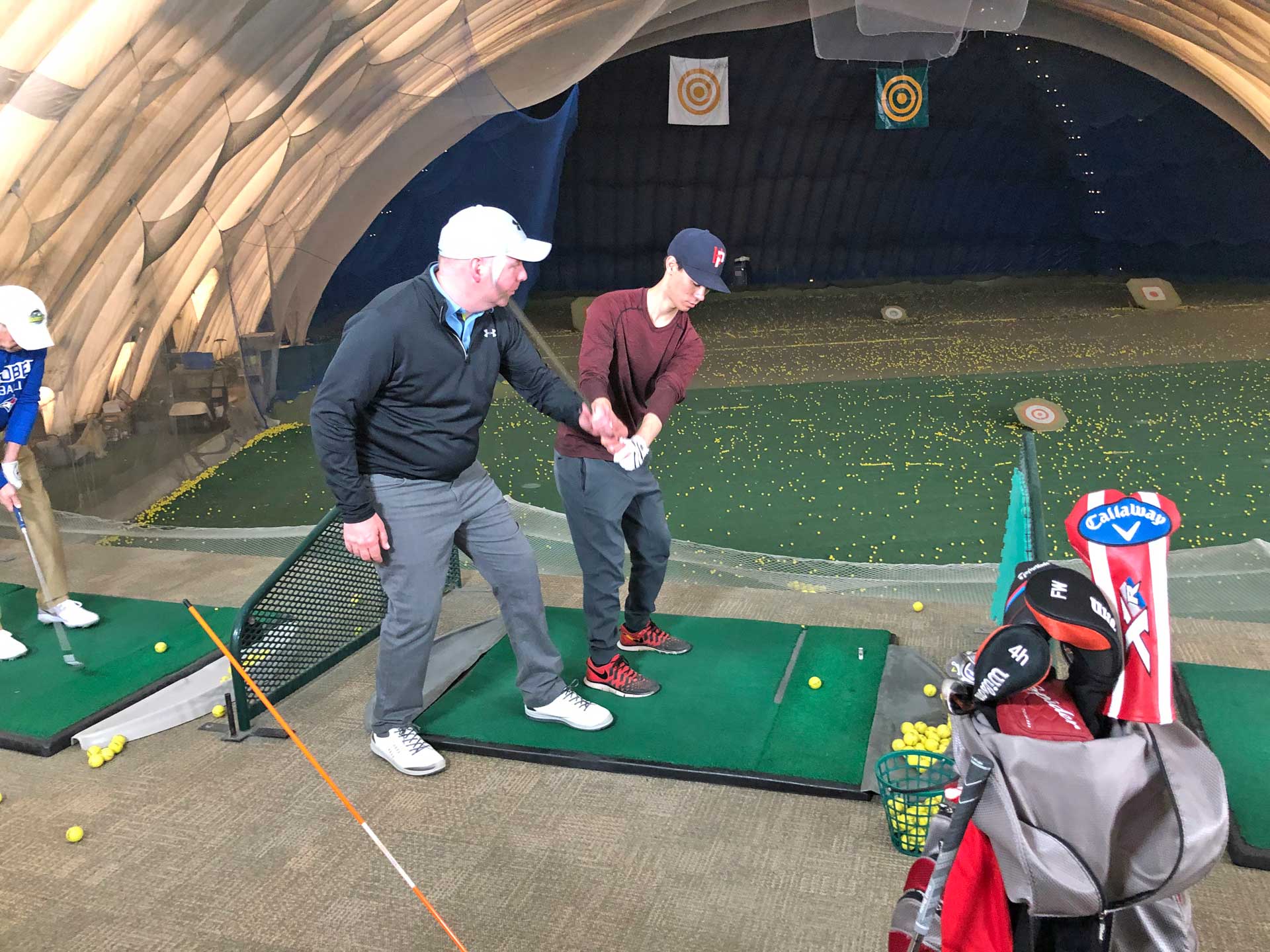 PGA of Canada, Head Teaching Professional
Graham is a golf enthusiast with over 15 years experience as a golfing instructor. Graham was introduced to the game at a very early age and was exposed to instruction since his early teens.
Graham has apprenticed for some of the top pros in the PGA of Canada and has taught at many first class facilities around the GTA. As a PGA of Canada Professional, Graham has obtained years of training and education to become the highly qualified golf professional he is today.
"My philosophy is to work with what the student brings to the lesson, whether their desire is to learn enough to have fun at a corporate event or whether they are looking to be coached towards becoming a quality player. My goal is to be the ambassador of the game and my enthusiasm comes from the joy I see in my students as they experience success in their quest for becoming a better golfer."
Please contact Graham for rates and information:
e-mail graham.ure@markhamgolfdome.com or call/text 647-802-2223
PGA of Canada, Head Teaching Professional
Gary is a Class "A" CPGA Head Teaching Professional and is recognized as one of Ontario's finest golf instructors. Gary's natural teaching skills have remained on the cutting edge by working with some of the best instructors in the world, including Jim McLean, Bob Rotella, David Leadbetter, Hank Haney, Jon Sinclair and the Jim Hardy Golf School to name just a few. He has also studied the area of Golf Fitness and Performance. Acquiring a Level 2 Canadian Golf Fitness Certification.
Gary has an uncanny ability to quickly and accurately analyze a golf swing and effectively communicate a plan for progress. He believes in building golfers who learn how to "play golf," as opposed to just learning how to swing.
Gary uses the most advanced teaching tools available today, GC Quad Launch Monitor, 4D Motion Sensor System, SP-Instant Slow Motion Video Playback, ES 14 Launch Monitor and 2 iPad Pro's.
or text Gary directly at 416-402-7171 to book a lesson
PGA of Canada Class A Professional
A PGA member since 1989, Duncan teaches all aspects of the game to new and experienced golfers alike.
greater consistency * more yardage * full swing technique * short game * putting * equipment * better scores * more fun
Duncan is not accepting new students at this time.
PGA of Canada Class A Professional
Regardless of whether you are a rank beginner, aspiring amateur or professional, Luiz will use his years of experience as both a coach and competitive golfer to help you reach your potential.
Luiz holds a BSc in Phys-Ed, is a Master Professional in his home country of Brazil and has played professional golf around the world.
Please contact Luiz for more information.
Call or text Luiz at 647-781-8463 or...
PGA of Canada Professional
With extensive experience both as a coach and competitive player, Johnny helps golfers of all abilities up their game.
Johnny speaks both English and Korean
Please contact Johnny for more information.
Text Johnny at 647-273-8707
PGA of Canada Professional

Canadian Golf Teaching Federation Teaching Professional
Billy focuses on the fundamentals of the golf swing, emphasizing swing effortlessly but effectively. He also works on student course management to improve scoring and truly enjoy the game of golf. 
Billy speaks Cantonese, Mandarin and English.
PGA of Canada Class A Professional
Although the journey of playing golf began in her 20's, Clara's endurance and passion propelled her into becoming an active member of the PGA of Canada in 2015. Now, Clara Cho is an associate professional golf instructor at the Markham Golf Dome.
She teaches all age groups; ranging from 3 to 70 years old. Clara is known to specialize in teaching the fundamentals to solidify the grounds for further advancement. For example, proper adjustment of the posture is taught to allow students to understand the bodily kinetics in conjunction with individual muscle groups.
PGA of Canada Professional
With extensive experience both as a coach and competitive player, Steve helps golfers of all abilities up their game.
Steve speaks both English and Korean
Please contact Steve for more information.
PGA of Canada Professional

Master CGTF Teaching Professional
Over 20 years playing and teaching golf experience.
— CGTF Certified Teaching Pro and USGTF golf management Certificate.
— CPGA associate member.
— Delivers the best ways to optimize your performance and minimize injury.
— Covers every aspect in your game under relaxed atmosphere with exceptional knowledge and enthusiasm.
— Promotes not only physical health, but moral force by perfect mix of modern and traditional swing methods.
-Speaks your language: Cantonese, Mandarin, English
Please contact Bennett at:
Rob has been working in the golf industry for over 15 years. His goal is to help his students attain a compact, athletic and repeatable golf swing using the unique abilities of each student.
As a former competitive golfer Rob also helps his students score better on the course with improved decision making and thought process. Whether you want to impress co-workers or take your game to the level, Rob can help attain all your golf goals.
text 416-908-8665 or e-mail robertdconway@hotmail.com
CGTF and TPI Teaching Pro
John has studied the techniques of some of the best teaching pros in the industry such as Butch Harmon, David Leadbetter, Rick Smith, Jim McLean, Sean Foley to name a few. As a CGTF Teaching Professional, beginners will learn golf from the ground up with solid fundamentals. An average to advanced player will get a lesson tailored to their swing concerns. Junior golfers will be learning in a fun and relaxed atmosphere to build a solid swing for life.
John uses Video Analysis in all lessons.
By using the mental aspects of the game used by the top golfers you will drop shots just by being able to focus more effectively. John is also a Golf Fitness Instructor and a Graduate of the Titleist Performance Institute.
Call or text 416-805-6463
CGTF Teaching Professional
Long a fixture at Markham Golf Dome, Carl announced his retirement in 2021.  Thousands of GTA golfers have benefited from Carl's wisdom for nearly two decades and Markham Golf Dome is forever grateful to Carl for his dedication and professionalism.
Carl may be retired from teaching but he is a friend of golf and our friend for life.  Thank you, Carl!  Wishing you all the best! 
Carl Forman has been playing golf for over 40 years. He has a Level II teaching certification from the United States and Canadian Golf Teacher Federations. He was a member of the North Bay Canadore College golf team and has attended the Ben Sutton School of Golf, the Harvey Penick Academy, the David Leadbetter Academy, Dave Lee's Gravity Golf School, Jim Hardy's two day One Plane Seminar and the Natural Golf School. Carl has completed the Golfsmith Clubmaking and Repair program as well as the Golfsmith Golf Clubfitting program.
Carl has been teaching in the north Toronto area for the past thirteen years assisting with junior golf programs at the Uplands Golf Course, the Aaron Roc Golf School and the Markham Golf Dome. For three years, he directed his own golf schools and lesson programs at the Fairwood Fairways Golf Centre in Markham. This is his seventh year as a member of the teaching staff at the Markham Golf Dome in Markham.
FALL/ WINTER Group Golf Clinics
Golf Clinics Presented by Gary Kent!
Call or Text Gary at 416-402-7171, or email info@garykentgolf.com to learn more.
*Dates and/or times may be changed at the discretion of Gary Kent.
5 Players per group
5 hours of instruction
An hour each week for 5 weeks
Everyone in the clinics has their own hitting stall. We don't share mats
Unlimited balls for the lesson
Use of clubs if needed at no charge
Clinics are for ALL levels of abilities
If you have to miss a class, make up dates are available through Gary
As an E-Club Member, you'll get news, updates, coupons and interesting features delivered right to your inbox, generally on a monthly basis! You'll have first hand knowledge and be able to take advantage of specials and promotions, available to MGD E-Club Members First!
By providing your email address, you are confirming your consent to allow us to continue to communicate with you electronically as part of our E-Club for Exclusive Monthly Savings! You may unsubscribe at any time!
Follow us on social media
Over 20 acres of Prime Practice Areas including an Indoor Dome & Outdoor Range Area
with short game putting green & bunker
Markham Golf Dome is Canada's most comprehensive golf facility.
Voted top 10 best practice facilities in North America.